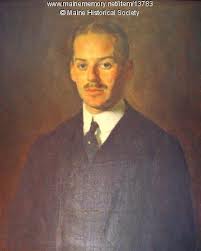 "Walter Goodwin Davis, Jr. (1885-1966) was described as 'aristocratic in being, elegant in dress, Anglophilic in speech, and punctilious in grammar…a Maine Yankee, that is to say shrewd, intelligent, and of high moral caliber; yet, he was witty, urbane, and at home in the intellectual and social circles of the world's greatest cities.'
"Davis prepared for college at Phillips Exeter Academy. In 1908, he received an A.B. degree from Yale and went on to take his L.L. B. degree from Harvard in 1911. After a three-year period (1911-1914) of employment with the New York City law firm of Shearman and Sterling, he was commissioned an officer in the U.S. Army and served with distinction during World War I. In 1918, he was attached to the American Commission to Negotiate Piece in Paris and later was sent to report on the immediate postwar conditions in parts of the former Austro-Hungarian Empire," according to Dr. Susan Fraser in her book The Architecture William Lawrence Bottomley, pp. 92-99.
Young attorney Davis had the high privilege of witnessing exactly how the victors divided up Europe after the Great War.
"The Davis family fortune grew from ownership of the Portland Packing Company, a leading exporter of canned goods, and a subsequent expansion to business interests that included banks, a steamship company, a paper company, and the Portland, Maine, trusteeship for Lloyd's of London."
During his time in Manhattan, Davis had become friends with up-and-coming architect William Lawrence Bottomley.
As a result, "Bottomley spent many Christmas holidays in this area of New England (Maine) with his good friend Walter Goodwin Davis, Jr. The fondness of Davis' parents, Walter G. and Mary Howard Davis, for Bottomley resulted in the commission for the Davis family mausoleum. After her husband's death in 1918, Mrs. Davis decided to build a home for her youngest son and herself at 155 Western Promenade in Portland. Intending to duplicate a house in Regency Park in London, where she had earlier enjoyed living, she sent Bottomley there to study the structure and to draw the new plans based on that house. Mrs. Davis died four months before the completion of the residence; however, her son lived there for the next 46 years."
Davis would become the author of 19 books and 40 articles on genealogy as well as the president, for decades, of Maine Historical Society. Historian Earle Shettleworth has told us that Davis underwrote the maintenance of Maine Historical Society with his personal fortune, particularly during the Great Depression, while his own renown spread as the nation's pre-eminent genealogist. His "Genealogical Dictionary of Maine and New Hampshire [issued in five parts, 1928-1939]," a towering work, has recently been republished.
"He never married," Frazer writes of Davis. "At his death in 1966, he was buried in the Davis Family Mausoleum at the Evergreen Cemetery in Portland."
Frazer's praised work on Bottomley includes photos of the facade; library (with the Boston Panel from the Zuber mural), salon (with two original Florentine oils from young Davis's Grand Tour travels before 1920, which are still in the house; dining room (with views of Mt. Washington), the rear entrance (with shell entablature); and first-floor plan.